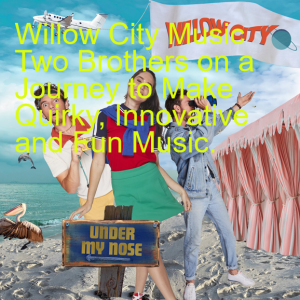 Friday Aug 12, 2022
Willow City Music Two Brothers on a Journey to Make Quirky, Innovative and Fun Music.
Ezra and Beecher Prōch of the band Willow City grew up in a world of creativity, surrounded by art and music and whimsy. The Prōch family made their home in the Hill Country of Texas, but their peripatetic lifestyle opened the boys' eyes to experiences most children only read about in books…in a sense, it was a wonderland. Nothing was impossible. Which explains then why both brothers are passionate about thinking outside of the box, not too far from how the mad-hatter might handle the musical realm.
So what is the brother's goal with Willow City? Simple: To challenge the musical status quo. To introduce a bit of their mad-hatter methodology into music. They are constantly on the hunt to explore new frontiers of sound. . This musical melting pot provides the backdrop against which Willow City crafts their quirky, innovative, and fun sound which dares you (pun intended!) not to sing along.
With their Dare Records debut single, "Under My Nose," Willow City delivers a playful depiction of a tale as old as time; Sometimes what we need has been right in front of us the entire time.
Get to know the brothers that make up Willow City Music by watching their interview with The Trout. Two brothers making great music together.
https://www.willowcitymusic.com/